This post contains affiliate links. If you follow a link I may earn a small commission at no extra cost for you.
Binoculars are available in various magnifications and lens diameters. Together with the types of optical glass used, the magnification and lens size is decisive for the optical performance and ultimately for which kind of activity the 8×42 binoculars are best used. However, if you want to buy good all-round binoculars, an 8 × 42 instrument is a good choice.
8×42 Are The Best All-Round Binoculars
8×42 Binoculars are by far the most popular and best-selling binoculars besides the very popular 10×42 binoculars. And not without good reason
Binoculars with 42 mm objective lenses are great to use in daylight but also have enough light-gathering power to produce bright and clear images in low light conditions
The magnification power of 8x is plenty to see objects in detail, while the field of view is wide enough to scan the scenery or follow moving objects
Because of these optical values, 8 x 42 binoculars are often referred to as all-round binoculars. Whether hiking, camping, bird watching or hunting, etc., a good pair of 8 × 42 binoculars is always practical to have
What Binoculars Should I Buy?
There are also many Binoculars in an affordable price range that offer good performance and optical quality.
Celestron – Nature DX 8x42 Binoculars – Outdoor and Birding Binocular – Fully Multi-coated with BaK-4 Prisms – Rubber Armored – Fog & Waterproof Binoculars – Top Pick Optics
Perfect binoculars for every adventure: A great match for everyone from beginners to mid-range outdoors and birding enthusiasts. The perfect combination of Premium build, portability, and price
Top-rated glass optics with impressive specs: Fully multi-coated lenses for brighter images, more contrast and highest resolution with phase-coated BaK-4 prisms, 8x magnification power, and 6.5-foot close focus
Robust, waterproof mid-sized body: Incredibly precise build and design that offers protection from outdoor elements. Features a waterproof/fogproof, rubber-armored, polycarbonate housing. Comfortable twist-up eyecups with multi-stop function ensure proper positioning of the eyes for eyeglass wearers and non-eyeglass wearers alike
All you need is included: Take this Binocular with you anywhere. We've included a compact carrying case, objective lens caps, an eyepiece rainguard, a neck strap, a lens cloth, and an instruction manual for easy use on the go
Unbeatable warranty and customer support: Buy with confidence from Celestron, a leading binocular and telescope brand, based in California since 1960. Your purchase is backed by a limited lifetime warranty and unlimited access to technical support from our team of US-based experts
Sale
Vortex Optics Diamondback Roof Prism Binoculars 8x42
8x magnification and 42mm objective lenses, these Diamondback binoculars are the workhorse of Vortex lineup; known for impressive optical quality and durability.
Dielectric, fully multi-coated lenses transmit more light and clearer, brighter images. A field of view that is one of the largest in its class helps you efficiently glass your surroundings and identify your target.
A sleek, short hinge design with rubber armor and thumb indents leaves more room for your hands creating an easier, secure, non-slip grip.
Multi-position eyecups twist up for adjustable eye relief. A right eye diopter accomodates for focal differences in your eyes.
Argon purging and rubber armor provide enhanced waterproof and fogproof performance in extreme weather conditions. Field of View: 393 feet/1000 yards|7.5 degrees
Nikon Prostaff 3S 8x42 Binoculars (16030) Bundle with a Nikon Lens Pen and Lumintrail Cleaning Cloth
Prostaff 3S has Eco-glass with high-reflective silver-alloy mirror coating applied to the prisms for bright images and a clear view
High eyepoint design for long eye relief, clear field of view even when user is wearing glasses
Compact and lightweight for portability with a rubber-armored design that is waterproof and fogproof along with turn-and-slide rubber eyecups
These binoculars can be used for bird watching, hunting, hiking, when camping, and other outdoor activities
Included accessories Carry Case, Neck Strap, Lens Caps, Nikon Cleaning Cloth, Nikon Lens Pen, and a Lumintrail Keychain Light
Bushnell Legend Ultra HD 8 x 42 Binocular
Beautiful design and durability built to last
Standard-sized binocular with 8x magnification and 42mm objective lens
Color-tuned, high-resolution ED Prime Extra-Low Dispersion glass
Ultra Wide-Band lens coating guarantees maximum brightness at peak shooting hours
RainGuard HD water-repellent coating; extra-wide field of view
Wingspan Optics CrystalView UltraHD 8X42 - ED Glass Binoculars for Bird Watching for Adults - Extra Wide Field of View, Close Focus, Phase Correction Coating for the Ultimate in Clarity and Brightness
Close Focus with Extra-Wide Field Of View - Our advanced Ultra HD Bird Watching Binoculars gives you the best of both worlds. Close Focus so you can capture every color and detail of a bird a few feet away. And a Wide Field of View allowing you to capture fast moving birds in seconds.
World Class HD Sharpness and Color Fidelity - Step up to spectacular! CrystalView Ultra HD Professional Bird Watching Binoculars delivers Ultra Sharp, Clear, True Color Images, close up or far away.
A Cleaner and Brighter Image - Extra-Low Dispersion ED Glass reduces chromatic aberration which causes color fringing and produces a cleaner and brighter image than standard binoculars.
High Quality and Protection From Extreme Outdoor Conditions - Ultra Durable Exterior, Waterproof, Fog Proof, Phase Correction, Coated Prism and Fully Multi-Coated Lenses . 8 X Magnification and 42mm Multi-Coated Lenses delivers brightness, high resolution color and the clearest, brightest, steady bird watching views.
No Risk, No Worry! - Your Binoculars come with a 12 MONTH PROMISE, Plus a 30 DAY MONEY BACK GUARANTEE, just in case you're not satisfied with your purchase.
Last update on 2021-01-22 / Affiliate links / Images from Amazon Product Advertising API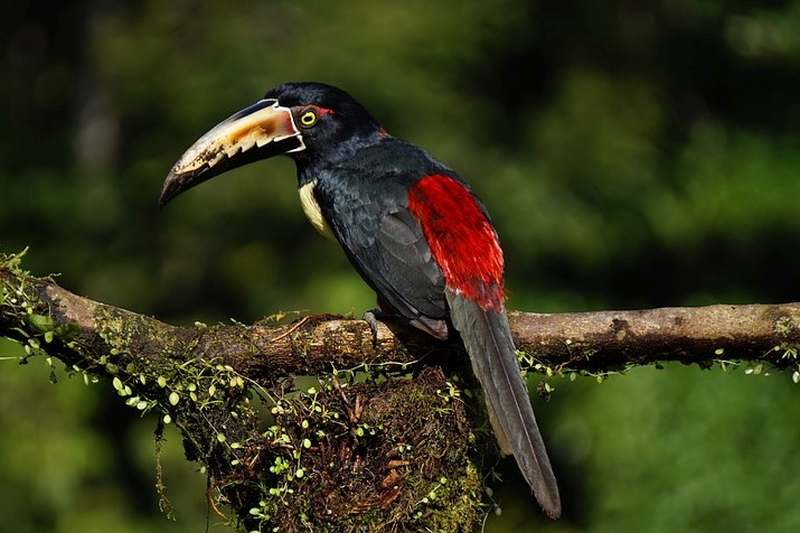 Premium 8×42 Binoculars
Price differences in binoculars can be huge. The materials used, the glass, the quality of the lenses and the coatings, as well as the precise manufacturing ultimately influence the price.
Premium and high-end binoculars are in another league. In terms of quality and optical performance, these binoculars can not be compared with binoculars that only cost a few hundred dollars.
Maven B1 8X42mm ED Binoculars Gray/Orange
Winner National Geographic Advenute Gear of the Year award 2014 "The clarity on these bad boys is superb, the depth of field quite large, and the color rendition flawless."
Winner of Outdoor Life's "Best Buy" award 2016 and the Grays Best award from Grays Journal 2017 "In every way, the Maven B3 lived up to its promise as a durable, compact, all-purpose binocular at a reasonable price."
All Maven optics come with an unconditional life-time warranty. If your optic becomes damaged or is at all defective (not including deliberate or cosmetic damage that does not hinder product performance), contact us immediately for repair or replacement. We don't care where or when you bought it or if it was your fault or not – if it's Mavenbuilt, we will take care of it.
ED Glass, for true color transmission and amazing brightness, and anodized aluminum adjustments for years of durability. Waterproof, fogproof, and scratch resistant lens coatings will ensure unimpeded field use.
Gearjunkie review ~ "Even in low light, these are sharp and bright. The large field of view makes hand shake unnoticeable and they are easy on the eyes. Viewing distant objects is pleasant even for extended periods."
Leica 8x42 Trinovid HD Binocular - Exclusive Outdoors Binoculars Kit
Leica puts a new spin on their perennial favorite, the 8x42 Trinovid HD Binoculars with phase corrected prisms that are coated with highly reflective multi-coatings to increase reflectivity, and anti-reflection fully multi-coated optics to boost light transmission through the lenses. These optical coatings work together to produce high-contrast images with true color rendition and minimal distortion.
The HD-Plus delivers enhanced contrast and true color fidelity, with virtually zero distortion, even in low-light conditions
This allows the use of high-magnification binoculars without the need for stabilization equipment like harnesses or tripods
This allows the use of high-magnification binoculars without the need for stabilization equipment like harnesses or tripods
THIS BINOCULAR KIT INCLUDES:Binoculars, Cleaning Kit with Wipes and Solution, Backpack, Tripod, Monopod, and Neck Strap
Sale
Swarovski SLC 8x42 Waterproof Binoculars with FieldPro Package, Green
The purchase Includes: Swarovski Optik SLC 8x42 Binoculars, Field Bag, Eyepiece Cover, Objective Lens Cover, Lift Carrying Strap, Swarovski Optik Limited Warranty
8x Magnification, 61-degree apparent field of view
HD Optical System: fluorite-containing glass offers 91% light transmission, enhancing color fidelity and brightness
Lifetime warranty for optics and 10-year warranty for other parts
Features SWAROBRIGHT and SWAROCLEAN trademark technologies
Vortex Optics Razor HD Roof Prism Binoculars 8x42
8x magnification and 42mm objectives lenses, the Razor HD features hand selected prisms and premium high density glass, delivering unparalled resolution and color, creating stunning high def images.
State of the art anti-reflective coatings with cutting edge plasma tech application guarantee the highest level of brightness during critical low light periods.
The true open hinge magnesium chasis forms a strong, lightweight, and ergonomic design resulting in more durability in the field. Strategically placed indents in the rugged armor ensure a comfortable grip in any conditions.
Adjust the multi-position eyecups to optimize fit for comfortable viewing with or without glasses. A locking right eye diopter adjusts for focal differences between your eyes.
Argon purging and o-ring seals provide a lifetime of waterproof and fogproof performance. Ultra-hard, scratch resistant armortek protects the exterior lenses from scratches, oil, and dirt.
Zeiss 8x42 Conquest HD Binocular with LotuTec Protective Coating (Black)
Best used for birdwatching, nature observation,
Compact lightweight ergonomic design for ultimate comfort in the field
T premium lens coatings for supreme brightness
LotuTec water shedding outer coatings for all weather use as well as fully armored and waterproof
Rotating and lockable eyecups for eyeglass or non eyeglass wearers
Last update on 2021-01-22 / Affiliate links / Images from Amazon Product Advertising API
What are the advantages of 8×42 binoculars?
Wide field of view
8x magnification is easier to hold steady than higher-powered binoculars
Great light-gathering power
Large size exit pupil, over 5 mm is good for low light
Compact and lightweight
Can be used all around
Large selection of models
What to look for in 8×42 binoculars?
Use of high-quality optical glass – to eliminate aberration and errors

Multiple coatings on lenses and prisms – improves light transmission and provides bright clear images in low light conditions, in the morning or evening hours

Phase correcting Bak 4 prisms

Long eye relief, especially if you wear eyeglasses

Adjustable eyecups – can eliminate disturbing stray light, allows wearers of glasses better to use the binoculars

Nitrogen or Argon purged – prevents fogging of the inside of the lens during extreme temperature fluctuations.

Waterproof – O-ring sealing provides protection against rain and tough weather conditions.

External lens coating –  to provide lotus effect and hardened surfaces to prevent scratches

Workmanship and feel – good neat manufacturing ensures that the mechanical parts will work.

Rubber armor protects and provides grip.

Good all-round binoculars should be lightweight and no heavier than about 25 ounces( 700gramm)
If you are interested you might want to read in more detail about all the important features of binoculars.
So what are the best all-round binoculars and what binoculars should I buy?
If you are serious about buying a pair of binoculars but still wondering what model to buy, then go for an 8×42 binoculars model. Binoculars with a 42mm lens diameter are very versatile and can be used in about every situation. Whether hiking, bird watching or hunting trips – good 8×42 binoculars impress with their optical performance, good handiness, and low weight.