This post contains affiliate links. If you follow a link I may earn a small commission at no extra cost for you.
Do you enjoy nature, birding, sporting, stargazing, and other outdoor adventures? A pair of binoculars is a must-have for an outdoor enthusiast. Binoculars come in different types, sizes and with various specifications and features to best match your requirements and your wallet.  You can choose for particular gazing such as bird watching binoculars, long-range binoculars, wide-angle binoculars, or all-round binoculars. If you are after good binoculars that don't break the bank, have a look at the Carson 3d Series Binoculars.
Carson 3D Series High Definition Waterproof Binoculars
Carson Optical is a US company based in New York State. Carson manufactures a wide range of binoculars and optical products with a strong focus on the leisure sector. They offer affordable high-end binoculars, which convince customers through quality and workmanship.
The Carson 3D Series High Definition Waterproof Binoculars are one of their top-selling binoculars.
Carson 3D Series Binoculars are available in 8×32, 8×42, 10×42, and 10×50.
Bestseller No. 1
Carson 3D Series High Definition Binoculars with ED Glass, Black, 10 x 50mm
High Definition Optics and ED Glass for Bright and Super Sharp Images
Rubberized Armor Coating Technology with Precisely Placed Thumb Grooves | Included with BinoArmor Deluxe Carrying Case, Shoulder Harness, Neck Strap, Lens Covers and a Lens Cloth
10x Magnification | 50mm Objective Lens Diameter | Field of View: 262 ft. at 1,000 yards | Prism Type: BAK-4
Weight: 1.6 lbs.| Eye Relief: 20mm | Fully Multi-Coated Lenses
Backed by the Carson No Fault, No Hassle Warranty
Bestseller No. 2
Carson® 3D Series 10x50mm Binocular with High Definition Optics (TD-050)
High Definition Optics with Fully Multi-Coated Lenses for Bright and Sharp Images
Shock-Resistant Rubberized Armor Coating | Waterproof and Fogproof
10x Magnification | 50mm Objective Lens Diameter | Field of View: 262 feet at 1000 yards
Weight: 1.59 lbs | Eye Relief: 20mm | Prism Type: BAK-4
Included Accessories: BinoArmor Carrying Case, Neck Strap, Shoulder Harness, Lens Covers & Cleaning Cloth
Bestseller No. 3
Carson 3D Series 4.5-14x 44mm Riflescope with Mildot Reticle (RS-444MD)
Shock proof, waterproof, fog proof with Eye relief at a comfortable 4 inches
Fully Multi-Coated Lenses allow maximum light transmission
Magnification: 4.5x-14x, lens size: 44mm, weight: 16 oz.
Field angle: 4.4-1.5 degrees, exit pupil diameter: 9.78-3.14mm prox.
Field of view at 100m: 7.7m/23.1ft - 2.6m/7.8ft
Bestseller No. 4
Carson Stinger 12x32mm Compact and Lightweight Binoculars (HW-232), Olive Green
Compact and lightweight binoculars | 12x Power Magnification | 32mm Objective Lens Diameter | Prism Type: BK-7
Features a center focus knob with independent right diopter adjustment for maximum focusing flexibility | Weight: 0. 7 lbs.
Field of view: 258 feet at 1, 000 yards | Eye Relief: 12mm | Close Focus: 13. 1 feet | Exit Pupil: 2. 7mm | Product Dimensions (LxWxH): 4. 4'' x 5. 3'' x 1. 6''
Fully multi coated lenses for bright and sharp image quality | Included Accessories: soft pouch, wrist strap and microfiber cleaning cloth
Perfect compact binoculars for travel, backpacking, birding, concerts, sporting events, surveillance, nature viewing, safari's and more
Bestseller No. 5
Carson RD Series 10x42mm Open-Bridge Waterproof High Definition Full Sized Binoculars (RD-042)
Lightweight Full Sized Open-Bridge Binoculars Magnification: 10x Power Objective Lens Diameter: 42mm Color: Green
Nitrogen Filled and O-Ring Sealed Making Them Both Waterproof and Fogproof Great Lightweight Binoculars for Hunting, Bird Watching, Hiking, Safaris, Sight-Seeing, Travel, Sporting Events, Concerts and Other Outdoor Adventures
BAK-4 Prisms and Fully Multi-Coated Optics Ensure Bright, Sharp and Crystal Clear Images Feature Extra Long Twist Down Eyecups Tripod Mountable
Field of View: 320 feet at 1,000 yards Eye Relief: 16mm Close Focus: 9.8 feet Weight: 1.35 lbs. Dimensions (LxWxH): 5.25 inch x 5.5 inch x 2.0 inch
Included Accessories: Hard Case, Lens Covers, Neck Strap and Lens Cloth Backed by Carson's No Fault, No Hassle Warranty
Last update on 2021-01-22 / Affiliate links / Images from Amazon Product Advertising API
Features
Sharper image visualization:
The Carson 3D series integrates low dispersion ED glass and Full Multi-Coating in its optics. Binoculars with multi-coated ED Glass lenses produce clearer and sharper image results. Color fringing is largely eliminated to experience nature and wildlife in high contrast and true color.
Extra-Low-Dispersion Glass in Binoculars produces amazing results that make them suitable for hunting, birding and nature watching.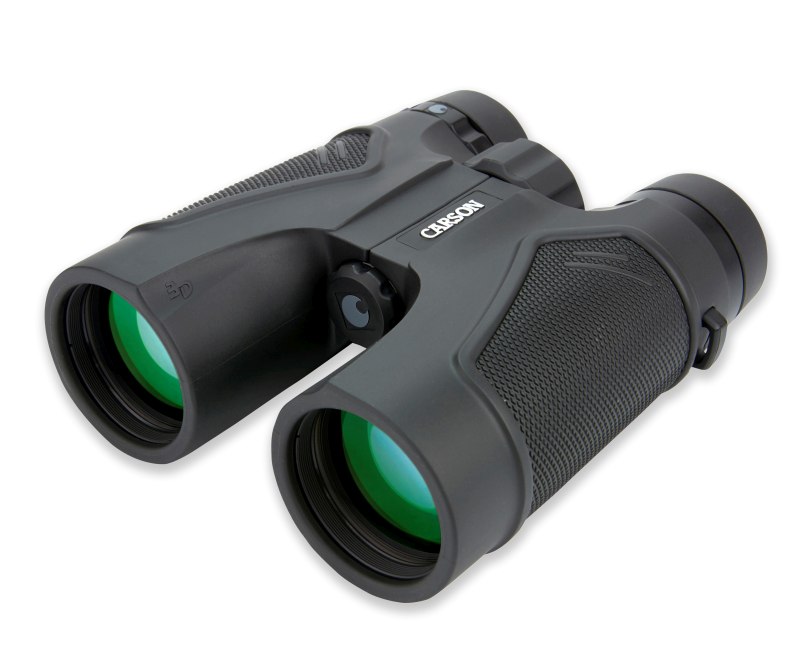 Phase Corrected Prisms
If you are a nature watcher, you appreciate the Carson 3D series binoculars BaK4 glass phase-corrected prisms. The prisms are dielectric coated which improves light transmission and gives you the brightest as well as clearest possible image results. The binoculars capture every detail in high-resolution, contrast and color fidelity, ideal to identify little crawling animals such as snakes, spiders, and other animals from a distance.
Extra Long Eye Relief
All of the above Carson 3D Series Binoculars feature Retractable Eyecups and extra-long eye relief between 16mm to  19.5mm. This long eye relief allows eyeglass wearers to use these binoculars without removing their glasses and enjoy a clear and detailed view of the scenery.
Short eye relief in binoculars can cause hurdles for eyeglass wearers if the visual impairment of the eyes can not be compensated by the diopter adjustment and one must always wear glasses.  Binoculars with a short Eye Relief cannot be used without removing the glasses. Either way, wearers of eyeglasses do not get clear results.
Enhanced Field View
A comfortable wide field of view is always a plus point of binoculars. The Carson 3D Series High Definition Waterproof Binoculars provide a field of 262 feet for the 10×50 model of up to 392 feet for the 8×32 model.
If you are fond of observing little critters near you then the Close Focus of 6 feet in the 8×32 model lets you enjoy the macro world around you.
Waterproof Fog proof and Dustproof
The Carson 3D Series High Definition Waterproof Binoculars are waterproof and fog proof thanks to being sealed internally with O-rings. You can use them anytime without giving a second thought to the weather.
High humidity conditions and temperature fluctuations can cause fogging, condensation of moisture on the internal parts of binoculars. This can result in lens fungus. To prevent this problem Carson binoculars are Nitrogen purged so you can use them without having to worry about condensation of moisture.
The binoculars come with a rubber coating to provide a secure grip even when wet.  The coating also provides some protection against shocks when accidentally dropped.
The waterproof, fog proof, dustproof and rubber-coated body make the binoculars hands-down choice for the tough outdoors.
Tripod mountable
The Carson Binoculars come with a tripod adapter. You can easily mount them on a tripod stand and get a crisp, clearer and study insects, birds and other wildlife without getting tired.
The tripod is not included in the package price.
Accessories included
A BinoArmor carry-case to securely store the instrument, neck-straps, lens covers and cleaning cloth.
Pros:
ED glasses integration renders clearer and brighter image results
Sharp results even in low light conditions
Perfect contrast detailed view
Can be used on a tripod for intense and extended viewing
Waterproof, fog proof and dustproof body
O-ring stealing to prevent humidity internally
Can be used by eyeglass wearer thanks to long eye relief
Neck-straps and shoulder harness for added portability
Cons:
The tripod is not added in the package, you will have to buy it with extra cash
Last update on 2021-01-22 / Affiliate links / Images from Amazon Product Advertising API
Conclusion
Great all-purpose binoculars, with great specs and features at a fair price. These binoculars are ideal for hunting,  nature viewing, birds gazing and much more. They are highly durable, lightweight, and render clear and detailed image results. Easy to mount on a tripod for extended hours of long intense viewing.
The long eye relief enables the eyeglass wearer to view wildlife, scenery, and nature without removing their glasses.
Great value binoculars, that come with no downside.